Alive Air Purifier Instructions and Help
Download The Complete Alive Air Manual By Clicking On This Link:

Alive Air Purifier Manual (PDF ) 

Setting Up Your Alive Air Purifier

Changing HEPA filters

Cleaning the 2 Alive Air Purifier Washable Filter

Resetting the Annoying Red Cleaning Light

Getting the Alive Air Machine To Power Up

Changing the UV Bulb

Cleaning the Sensor Lenses

Plasma Grid Wire Replacement

Cleaning the Motor
1. Setting Up Your Alive Air Purifier
2. Changing HEPA Filters – Video
3.

Cleaning the 2 Alive Air Purifier Washable Filter
 NEW VIDEO COMING
More Notes On Cleaning:
Warm water and dish detergent (not dishwasher detergent)

Let Completely air dry before re-installing the 2 washeable filters and the Faceplate

Clean the 2 washable filters once every month

4. How do I get the red cleaning light to go off?
Every six months, a sensor lights to remind you if you haven't washed the washable filters every month. Here's how to turn the red light off…
5. What Do I Do if My Alive Air Purifier Does Not Turn On?
Written Notes On Powering Up The Unit:
#1 Pull all the filters out and reinstall them snuggly. (The filters all have a safety sensor so the machine won't run if opened)
#2 Check the plug.
#3 Check and see if anything is broken (UV bulb, wires in the grid, etc.).
While we rarely have problems, call us if this does not help.
6. How Do I Change The UV Bulb? How often?
The UV bulb, if run continuously, will last approximately 6 months.
7. Cleaning The Sensor "Lenses" (If the Allergen Light Stays "ON" all the time)
The "auto"sensor operates via a lens which detects particles, etc. On occasion the lens can get gummed up by spray aerosols or chemicals in the air. This can cause the auto sensor to stay on or not respond. Once a year (if the "Allergen" light stays on all the time) you can clean the lens of the dust, allergen sensor. Instructions are given in the video below:
IMPORTANT: UNPLUG THE MACHINE BEFORE FOLLOWING THE STEPS ON THE VIDEO. ALSO SEE WRITTEN UPDATES AFTER THE VIDEO. THANK YOU!
Notes On Cleaning The Lenses
1. Completely wipe the inside of the area which houses the sensor with a micro fibre cloth or an unscented Swifter cloth, before taking apart the sensor.
2. If there is not enough room to work with the sensor, gently pull the white ribbon wire another inch from the machine housing to give you some extra slack.
3. Only slightly dampen one end of a Q-tip with a glass cleaner to clean both sides of the sensor lenses and then with the dry end of the Q-tip, dry both sides of each lens.
4. Please use glass cleaner as some alcohols can damage the lens.
8. Wire replacement Instructions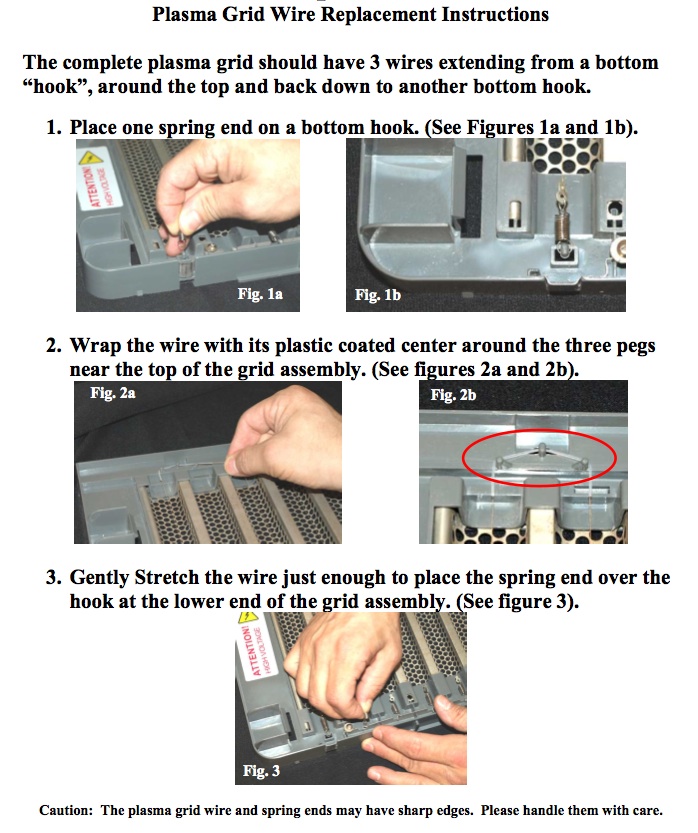 9. Cleaning the Motor and Monitor Light
HAVE A QUESTION?
CALL US TOLL-FREE:

1-800-215-1689