More Reviews: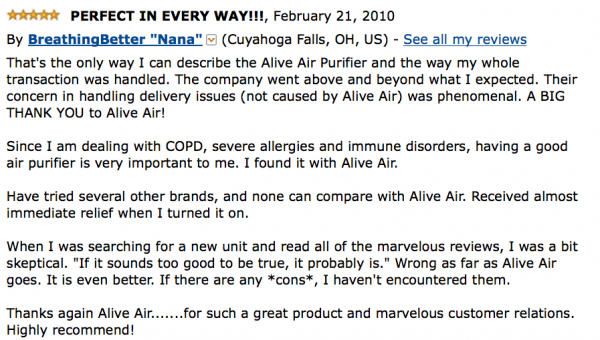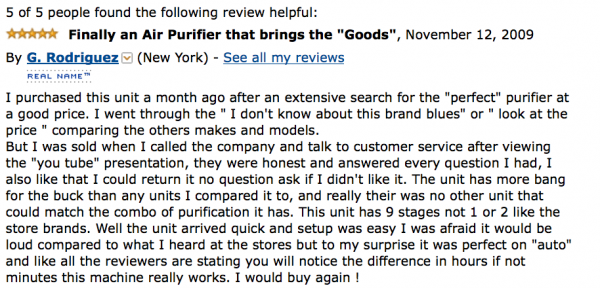 Customer Email Reviews and Letters….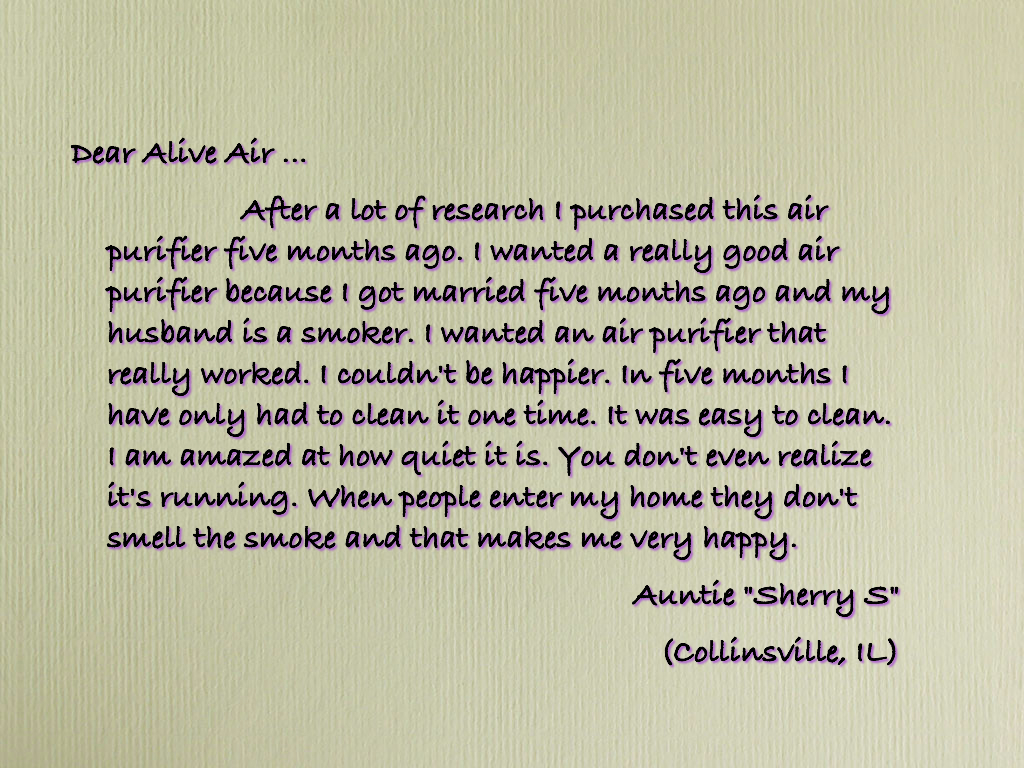 ***********************
I like your site and especially the videos. Excited about your filter. Going to order one. If it is as anticipated, I'll order more. Appreciate the simple and comprehensive presentations. You seem to be a quality company. Thanks!
– R. Robinson
*****************

Greeting Everyone,
I would like to start by stating that this Alive Air Purifier is the absolute best unit I have ever purchased. The 9-stage purification system works wonders. I have had many so-called air purifier units over the years and this unit really does work!
In a household with 2 cats and many guests passing through our door, there is plenty of dust and pollens and everything else in the air. My wife and I have noticed a major difference in the air quality in our home and are very happy with the Alive Air Purifier.
We both sleep better and feel better then we ever have. Does air quality make a difference in your health? I can testify that, YES it does. My wife has named our unit, "AIR WALL-E" after the animated character of the film, WALL-E. The design reminds her of the character and that works for me.
In the past we would turn off the air purifier unit during the day but with Alive Air Purifier, we have not turned it off since we purchased the unit months ago, except to clean the filters. It operates whisper quite and with the AUTO setting, it adjusts the air accordingly. Just what an air purification system should do. With a price point far below other comparable units, I can only say that we made the right choice.
The people at Alive Air are very professional and friendly. When I was researching air purifiers, I called the company with a few questions. Mark Richardson, the CEO of the company personally returned my phone call and answered all my questions. Now how many CEO's would do that these days?
If you're looking for an air purifier that REALLY WORKS, I would not hesitate to recommend an Alive Air Purifier to any one who cares about the air quality in their home, business or any where you need cleaner and healthier air.
You can't beat a great unit at a great price. If I ever need a second unit, I would not even blink a eye. I would just call or order a second unit on-line. Viva Alive Air!
Sincerely,
Lawrence
Ready to order one or more Alive Air Machines now for your home
or office?
Order It Now For
Only $297
And We'll Even Include Free Shipping!
(except Alaska, Hawaii, and PR*)
You Save $182 off the Regular Price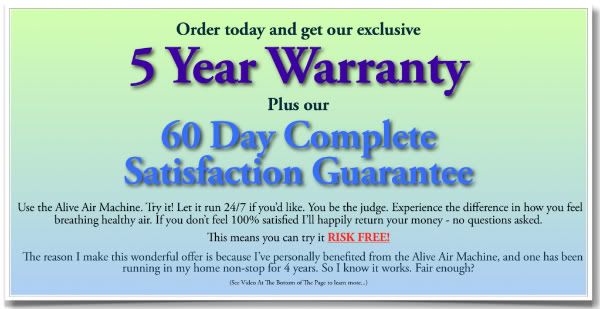 Or Save Even More

By Ordering Extra Ones For:


Your Living Room

Your Bedroom

Your Office

Family Members

Friends
See more discounts by clicking the "ORDER NOW" button below
Free Shipping Included On All Orders!

HAVE A QUESTION?
CALL US TOLL-FREE:

1-800-215-1689