Due to high demand we are

 Sold Out of the ALIVE AIR Purifier 

(back in stock in December)

but have three special offers:
#1 SAVE $54 – Order an Alive Air Purifier now – and we will include a FREE HEPA/Carbon filter

when we're back in stock.

#2 SAVE $100 – Order our Alive Air SMT5 model at a special price of $197. (see the video below)
OR
#3 SAVE $50-75

. We have a number of "Open-Box" and returned Alive Air Purifiers. Call the toll free number above to inquire. 
Watch the Video and learn more about the Alive Air SMT5 below….
Q: Besides being $100 less how is te SMT2 different?
A: It covers 600 SQ FT vs. 860.  Yet it also includes these Technologies:

A Cleanable HEPA Filter- A must-have for those suffering from allergies and asthma, this filter is tested 99.97% effective in capturing harmful airborne particles as small as 0.3 microns including dust, pollen, bacteria as well as other harmful airborne germs and pollutants.

Activated Carbon Filter – Far and away the most effective filter for absorbing odors, toxic gases and hazardous chemical fumes including cigarette smoke and everything from paint fumes and toilet odors to poison gases.

Ultraviolet (UV) Light Irradiation—Recommended by the Centers of Disease Control, ultraviolet light actually breaks down the molecular structure of mold, bacteria, viruses and other airborne germs, rendering them harmless.

Continuous Negative Ion Generation – Helps put back the naturally occurring, healthy air-cleansing properties of negative ions that urban living steals from Mother Nature. This is extremely effective at clearing smoke, decreasing carbon monoxide levels, combating airborne infections and even reducing fatigue.

A Photo Catalyst Nano-TiO2 Germicidal Sanitizers – Help suppress the growth of harmful microorganisms including mold, mildew, other household fungus, bacteria, viruses, dust mites and a variety of odors.

Pollution Sensors – Monitor indoor pollution levels and adjust system performance settings to maximize air-cleansing effectiveness.

 Diagnostic Sensors – Alert you when it's time to replace filters, the UV light or clean the collector grid, all designed to guarantee your system is working at peak performance, without you having to think about it.
It also covers 600 Square Feet!

Order Your Alive Air SMT5 System Today
Only $197

And We'll Ship It For Free!
[Shipping: Our Free Ground Delivery Usually Arrives Within 5-10 Business Days ]
"Asthma and Allergy Relief"
My name is Jane and I'm from Los Angeles. I've suffered from asthma and dust allergy most of my life and, over the years, I've tried dozens of air purifiers but none of them helped until I bought one of your air purifiers!"

"Food Odors"

Jim here from Spokane, Washington.Your air purifier works almost too well. It's so effective my wife made me turn it off during Thanksgiving dinner because no one could smell the turkey. Rest assured though, that's the only time we turn it off.

"Better Sleep, More Energy"
I used to wake up feeling tired, like I hadn't slept much. After 2 nights of using the Alive Air Machine in my bedroom I woke up feeling refreshed yet (unlike the Oreck I had) it was so quiet I slept like a rock. Thanks.
– Edward, Redondo Beach, CA.

"Dog Smells, Preventing Illness, Saving Money
With a dog and a child I bought your machine to get rid of dog smells and to prevent colds and flu. I love that it "detects" the air and adjusts to clear odors, pollen, and dust while saving electricity.
– Nancy, New Haven, CT.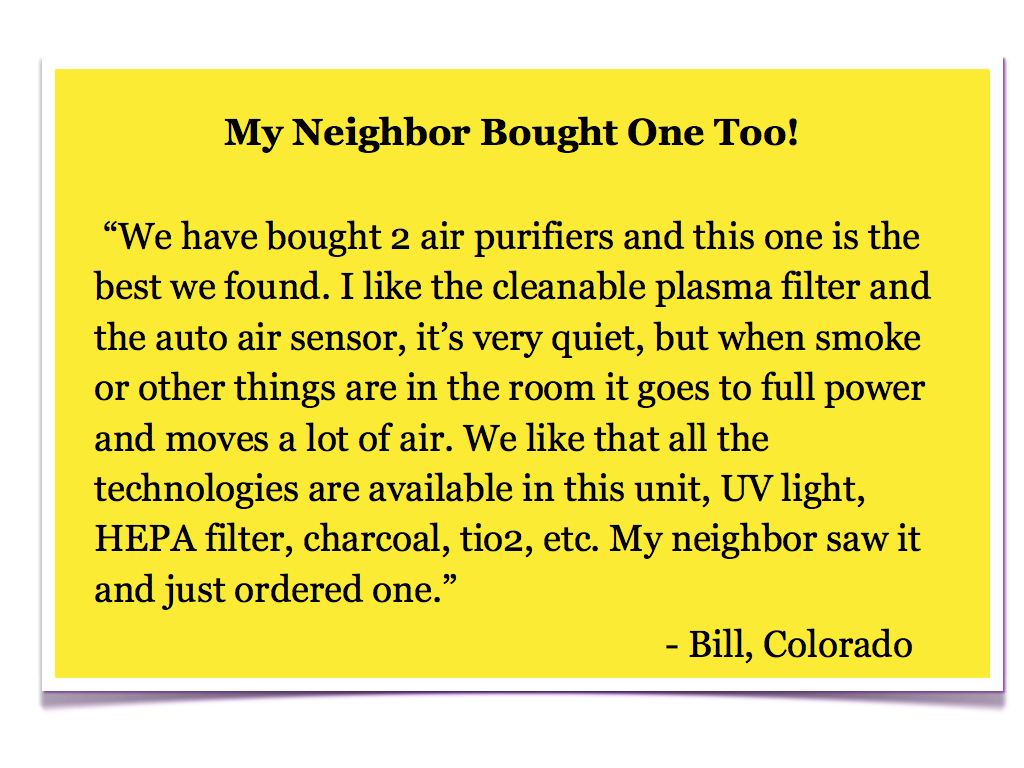 HAVE A QUESTION?
CALL US TOLL-FREE:

1-800-215-1689

(9-5 Pacific M-F)



Top Questions Answered
Q: The Alive Air SMT5 looks so much better than other purifiers on the market, yet the price is so reasonable. How can you do that? 
A: The Alive Air Brand is only sold online, and we ship direct from the warehouse. Because you're not paying for infomercials or store fronts (which can easily increase an air purifiers price 45-60%) we're able to offer you a better air purifier, for a better price.
Q: Will the Alive Air Machine SMT5 help relieve allergies?A: It's exceptional for allergies.First you have HEPA, recommended most by Doctors because it traps pollen and dust. But because allergies signal a weak immune system you want to remove other immune threats like mold, mildew, viruses and germs which can all trigger allergies. That's why HEPA alone won't do it. 
Q: How does it compare to the infomercial brands and the expensive HEPA air purifiers when it comes to reliability?
A: Great question. We believe (and know from our customers) that our product is much more durable that others. We've continued to improve it's design over 6 years to make it so (We've had one of the Alive Air Machines running continuously in our office for almost 5 years. It still runs great!).
Q: What is your shipping policy?
A: We ship UPS Ground directly from our warehouse, and usually get your order to UPS within 3 Business Days. Then it takes 2-5 days from the time we ship (faster for the West Coast, slower to go east). We include a secondary quality control before we ship any alive air machine out to insure that everything is working to specs. If you need faster service please consider the 2nd Day Delivery options.
Q: Can I talk to a person live before ordering.
A: Yes. We'd love to help. You can call us at 1-800-215-1689 .

[SEE THE SPEC SHEET BELOW]
Ready to order one or more SMT5 now for your home or office?
Order It Now For
Only $197
You Save off the Regular Price
And It Includes Free Shipping!
HAVE A QUESTION?
CALL US TOLL-FREE:

1-800-215-1689
(9-5 Pacific M-F)

***********************************
*Free Shipping Does Not Include Shipping To Alaska, Hawaii, or PR. We do not ship to Canada (the duties made it prohibitive), but will honor warranty if shipped via the US to Canada (via friends/relatives or the border).Returned merchandise must beshipped at purchasers expense and you've received a Return Goods Authorization (RGA) from AliveAir.com ( email). You may send back your AliveAir product via, USPS, UPS, or FedEx. No merchandise will be accepted COD or collect.